Receipts are very useful in many ways and receipt keeping is one of your major responsibilities as these are considered:
a part of financial expenses/sales report in your company
Receipt management can be in two different systems:
Paper receipt management. It is the traditional way of keeping and organizing receipts with the use of filing cabinets, filing folders, and other office materials. This will take a lot of time and effort because you need to sort every receipt by category and you cannot put everything in one folder. Receipts should be in order according to date or year. You really need to invest in office supplies to keep your records safe and accessible. This kind of method can be challenging and you have to set a routine in filing all receipts to avoid clutter and more workloads.
Electronic receipt management. If you want to save more money, time, effort and want to get rid of paper files and save more office space, then you have to switch to the digital receipt management method. There are a lot of electronic receipt management tools to choose from and one of the most highly suggested is the MakeReceipt. It is a receipt generator that will allow you to create a receipt in 3 easy steps, it is a piece of cake. The organization of receipts is automated and your work will be more manageable and you get to focus on your other important business task. Electronic receipts are downloadable and making backup files is fast and easy. You will never have a chance to lose important financial details. Tracking is real-time and accessible anytime, anywhere.
Electronic receipts work in different ways: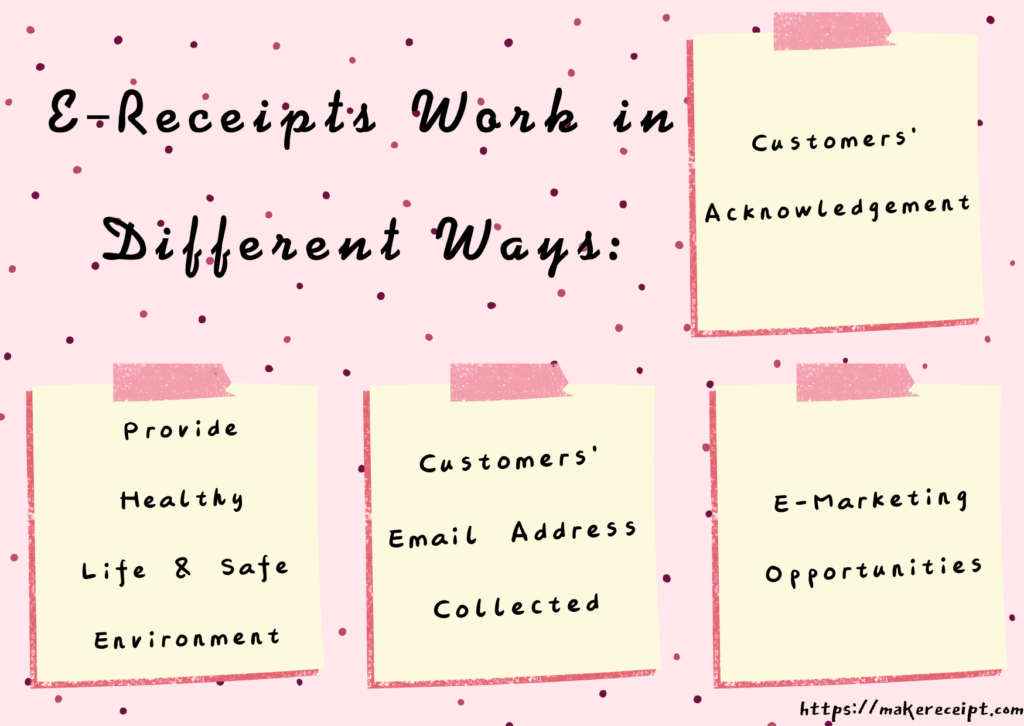 After the customer's payment or sales transaction, the cashier or assigned employee can ask politely if the customer wants a digital receipt or paper receipts. State clearly that you are implementing paperless administration in advocates to save more trees and save individual's lives from harmful effects of either Bisphenol A (BPA) or Bisphenol S (BPS).
You prevent not just your customers from getting exposed to these chemicals but also you and your employees. These toxins do not only remain on the paper receipts but also can enter into our systems as a result of just touching the receipt. 
Everyone is very more careful and focuses now on their health and most of them enjoy the function and convenient use of electronic receipts. By the customer's acknowledgment to receive an e-receipt, you get the chance to get each customer's email address to deliver the receipt to their inbox.
With your email address list collections, you can have the opportunity to send your existing customers in times you have store sales and promotions. The email marketing campaign is one of the fastest and effective ways to reach your target audience.
Investing is worth a penny if you want to arrange your receipts comprehensively and want to have the best access functions that the paper management system does not provide. You go paperless but you can save receipts for a long period. Try it TODAY!