Electronic receipts, also known as e-receipts have surpassed paper receipts in popularity. This is because regardless of the retailer's size or nature, it provides considerable commercial benefits and reshaping the world of retail marketing.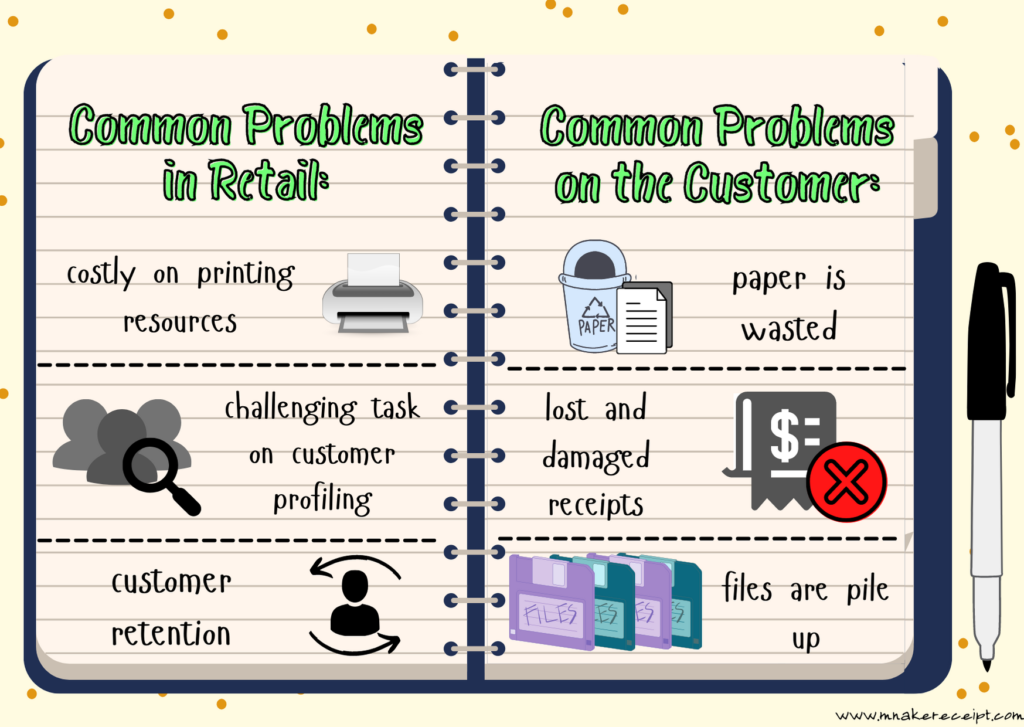 The common problems in retail when using paper receipts are:
Printing is costly and business owners are kept on buying rolls of paper receipts, inks, and toners because receipts are mandatory.
Customer categorization is very challenging (to determine what kind of customers you have and what products or services your customers are most patronizing or not).
Retention marketing for your existing customers or other marketing strategies such as looking for potential customers is very much limited.
While on the customers' end, the common problems in retail when using paper receipts are:
wasted and end up in the landfill because a lot of customers threw them on the trashcan after purchased,
Some customers lost/misplaced paper receipts and can't find them anymore, and when they need a return/exchange or warranty claim for the item they bought it gets rejected by the store.
And for a business expense, you cannot present valid proof for tax claims because the paper receipts are damaged or fades.
Pile of paper receipts in the office cabinet or your wallet and there is not much space left.
With the use of electronic receipts: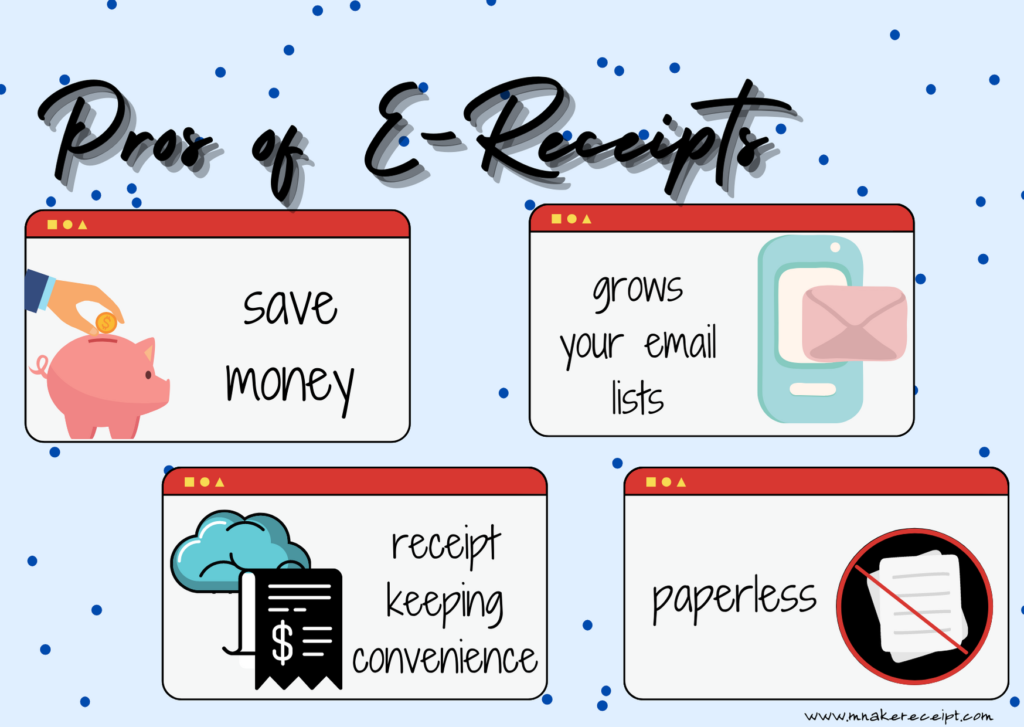 There are no paper receipts, ink and printer cost involved. With the amount of money you saved on other business resources, you can transfer or add more funds to your other business operations.
Improves marketing strategies.
With the use of an online receipt maker, it stores your customer information. You can gather a lot of email addresses and make it easier to send out emails and implement email marketing. You have the option to customize the receipts you want to send to your customers. Customer retention will improve as you are making efforts to attract them with your store promotions. You can share information with them based on their purchase history to meet their specific needs. Reaching out to them with your email marketing campaigns is one of the best opportunities to increase your profits and find more customers.
No hassle in receipt keeping
Paper receipts end up fading even if you don't lose them and occupy so much space at your workplace. With the use of an electronic receipt generator, these main problems are solved. Data is saved in the cloud and is accessible anytime you need information. Same with your customers, they can keep the receipts in their email inbox. Documentation is much easier and improves your accounting processes and saves you from tax season.
You have less physical paper in your work environment as digital documents are more organized and easier to share digitally when in times of collaboration with your assigned employees or accountant. It also saves your health from harmful chemicals and helps the environment to save more trees and other environmental resources.
Knowing what you're doing and taking advantage of new business learnings and the latest technology, will give you fast and positive results and that will make all the difference.